2015, just objectively, has been an amazing year to be a reader, and it's highly unfortunate that breaking my foot in May sent me into a reading slump that prevented me from getting to enjoy as much of what was published this year as I hoped to. I came in right at ten books behind on my goal of reading two books a week, and I can think of probably twenty books off the top of my head that I would love to have gotten around to this year.
Still, I made it through over ninety books in 2015, most of them new releases, though I did read a couple of classic sci-fi novels and check out a few things that were being adapted to film or television. While most of what I read was excellent (Yay, me, for making good choices!), there were a couple of disappointments (I'm looking at you, The Dinosaur Lords). It was a good year, and it was tough to pare this list down to a reasonable number of favorites. Obviously, "reasonable" is a subjective term.
The Fifth Season by N.K. Jemisin
N.K. Jemisin quickly became one of my favorite authors when I discovered her a couple of years ago, so The Fifth Season was one of my most anticipated 2015 releases. Jemisin didn't disappoint, delivering a new fantasy epic that is both enormous in scope and deeply personal. If only for Jemisin's mastery of her craft, this is one of the most important novels of the year. There's very little to say about it without spoiling the whole thing for those who haven't read it, but I will tell you that it's the most devastating thing I read in all of 2015. The Fifth Season just destroyed me. In a good way.
The Long Way to a Small, Angry Planet by Becky Chambers
This delightfully original space opera is the only book I read twice this year. It's a sort of space road trip story told in vignettes that take place over the space of some months on a ship that is traveling to a remote part of the galaxy to drill a wormhole that would connect an unstable but resource-rich planet to a kind of galactic federation. It's a book about family that exemplifies the old adage that home is where the heart is, but it's also a book about gender and sex and war and politics and what it means to have humanity. It's funny, smart, and poignant in turns, and while it's a book that wears its progressive ideals very much on its sleeve, it never turns sanctimonious.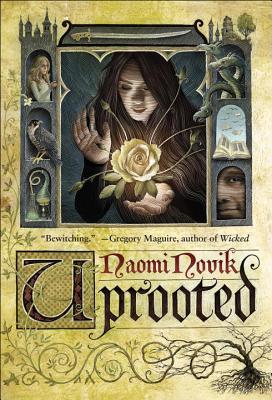 Uprooted by Naomi Novik
I had read and enjoyed the first couple of Naomi Novik's Temeraire novels some years ago, but hadn't really followed her work very closely until I saw Uprooted getting an enormous amount of buzz in the early months of 2015. Having pleasant memories of Novik's earlier books, I thought I'd give Uprooted a try, and I quickly fell in love. Agnieszka is a wonderfully funny and clever heroine, and she's got a friend, Kasia, who figures largely in the story as well, which is important as it prevents the novel from being a straightforward kind of "Beauty and the Beast" romance. Instead, Uprooted is primarily about a young woman learning her own power, growing up, and finding her place in the world. If you like Robin McKinley, Patricia C. Wrede, Diana Wynne Jones, and Tamora Pierce, you will love Uprooted.
Radiance by Catherynne M. Valente
Radiance had me at "decopunk pulp SF alt-history space opera mystery." You know, if I wasn't already definitely going to read it because, honestly, I would read the phonebook cover to cover if it had Catherynne Valente's name on the byline. I will say that I think my opinion of the book suffered a little from my own exceedingly high expectations, but it's a remarkably ambitious tome that is largely successful in its aims. It's experimental and literary, but not inaccessibly so, and Valente's lush prose is always a delight. Valente also published a couple of novellas in 2015—Speak Easy, which is a sort of retelling of "The Twelve Dancing Princesses" in the 1920s with Zelda Fitzgerald, and Six-Gun Snow White, which had been previously published before but is definitely worth rereading.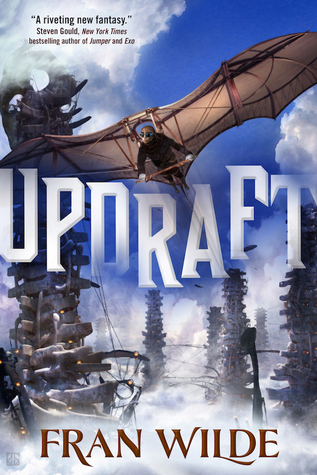 Updraft by Fran Wilde
Fran Wilde's debut is probably my favorite debut of the year. It definitely feels almost more like a YA book than most of the other work I've been interested in recently, with its teenaged protagonist and coming-of-age themes. Where Updraft really shines, though, is in bringing to life one of the most unique and interesting fantasy worlds I've read about in ages. With a heroine, Kirit, who eschews all of the most common and irritating YA protagonist tropes, it's an absolutely winning combination and one of the year's most inventive and original books.
The Just City and The Philosopher Kings by Jo Walton
The Just City was one of the first books I read this year, and I was thrilled to learn that it had a sequel coming out just a few months later. These books, the first two in a planned trilogy, explore what might happen if the goddess Athena gathered thinkers, philosophers, and dreamers from every end of human history to try and build Plato's Republic on an island in antiquity. Apollo becomes a human so he can learn about equal significance, and Socrates shows up to debate with everyone and instill revolutionary ideas in the community's robots. If you love philosophy and think that a book whose climax is a lengthy debate between Socrates and Athena sounds good, you should read this series before the final volume arrives in mid-2016.
A Crown for Cold Silver by Alex Marshall
I didn't read a ton of epic fantasy this year because I've been more focused on reading diversely and broadening my horizons to include more science fiction and more literary work, but I couldn't help but pick up this one. It's almost a pastiche, though I'd say it plays most of the regular epic fantasy and grimdark tropes just straight enough to not be altogether outside the genre. That said, A Crown for Cold Silver is definitely a genre-critical and self-aware novel that, at the same time, doesn't take itself too seriously. It's every bit as violent and bloody and morally ambiguous as The First Law or A Song of Ice and Fire, but with a sense of humor that makes it a much more enjoyable read.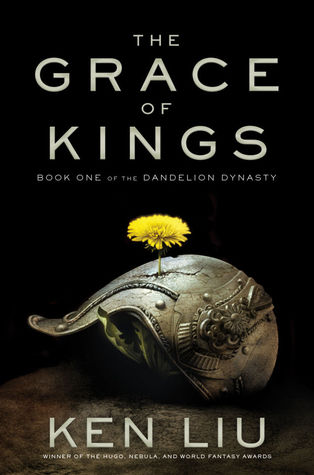 The Grace of Kings by Ken Liu
Ken Liu has coined the term "silkpunk" to describe what he's creating in this first novel in a new trilogy, The Dandelion Dynasty, and I'm happy that I'll be able to look back many years from now and know that I read this stuff before it was "cool." The Grace of Kings is a captivating mix of Eastern and Western literary and historical influences that is worth reading if only because it's so unique as a work of epic fantasy. While this first installment in the series is mostly focused on male characters, it's not devoid of interesting and diverse women who are set to figure more prominently as the series continues. The book itself is a slow starter, but once you get into it you're almost guaranteed to fall for its rather rakish charm.
The Traitor Baru Cormorant by Seth Dickinson
The Traitor Baru Cormorant has the distinction of being the most technically perfect novel I read in 2015. It's just, objectively, absurdly good—well-conceived, perfectly paced, tightly plotted, just excellently written overall. It's also incredibly dark and perhaps a little more pessimistic than I would have preferred in the end, but I think I could forgive this book almost anything because it gave us the character of Baru Cormorant. As I get older, I find that my favorite characters are, increasingly, women of the complex and ruthless variety, and Baru is definitely that. She's not a woman who I'd ever want to be, but she's exactly the sort of woman I love reading about.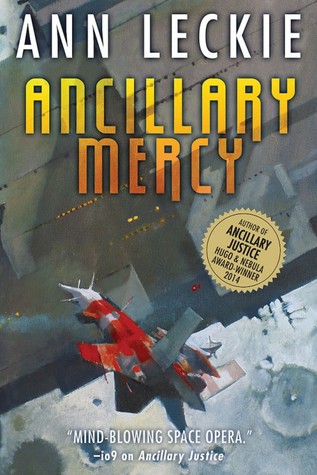 Ancillary Mercy by Ann Leckie
This conclusion to Leckie's Imperial Radch trilogy was everything I could have wanted it to be. It's a wildly entertaining and fast-paced finale to one of the most compelling original space operas in recent years, and it manages to wrap up the series in a satisfying way while also leaving plenty of room for sequels—a somewhat likely possibility as the author has said she intends to write more in the Imperial Radch world in the future. While I loved to see how things work out for all my favorite characters from the first two books—Breq, Seivarden, and Tisarwat in particular—Ancillary Mercy introduces a couple of new characters that I found surprisingly endearing. All in all, a solid finish even if it doesn't quite match the sheer inventiveness of Ancillary Justice.
The Three-Body Problem and The Dark Forest by Liu Cixin
Though The Three-Body Problem was technically a 2014 release, I read it this year after it was nominated for a Hugo Award and then just had to read The Dark Forest when it came out a couple of months later. These might be the most unusual books I read this year as I seldom read translated fiction and had never read anything translated from Chinese before. I'm so glad I did, though. This pair of books were definitely not easy reads—they're very cerebral, heavy on philosophy, and owe a great deal to a lot of classic "hard" sci-fi that I haven't read (as well as to a lot of previous Chinese SF that I'm, of course, also not familiar with)—and the fact that the two books have different translators makes them feel subtly stylistically different, almost as if they had two different authors altogether. Even still, they're some of my favorite reads of the year, if for no other reason than I appreciate the chance to read something written from a perspective and in a context so different from my own. If you do read these, I highly recommend buying them; with any luck, commercial success for this series will encourage the publication of more translated work in the U.S.
Queers Destroy SF!
I've been following Lightspeed Magazine's Destroy SF projects since their very first Kickstarter, and they really only get better over time. This year, Queers Destroy Fantasy! was by far the best issue of the bunch, but they are all worth checking out. I've discovered several new authors in the pages of these magazines; the reprints prove that diverse authors have always been around if you just keep an eye out for them; and the essays and author profiles are fascinating and often powerfully written. 2016 will bring us POC Destroy SF!, with the Kickstarter planned to start in mid-January. In the meantime, it's not too late to buy the past issues of Women Destroy and Queers Destroy.
Tor.com Novellas, Various Authors
Tor.com has been publishing great fiction for years, but this was the first year that they published novellas, and this has been one of my favorite developments in the world of SFF this year. I've always loved novella-length work and felt like shorter novels don't get enough attention, but that seems to be starting to change. The first round of Tor.com novellas was published this fall, and they were all at least good. My favorites were Kai Ashante Wilson's Sorcerer of the Wildeeps, Daniel Polansky's The Builders, and Angela Slatter's Of Sorrow and Such. Binti by Nnedi Okorafor, Sunset Mantle by Alter S. Reiss, and Witches of Lychford by Paul Cornell were also strong titles.