Between personal life stuff (my car will not stop breaking down about once a week) and generalized depression and anxiety about the state of the country and the world, I didn't get around to writing nearly as much as I'd have liked to about what I've read in the last three months, so I've been looking forward to writing this list and wrapping up this season of stress and frustration so I can move onto other things.
That said, there was so much great stuffed published over the last three months, and I ended up reading most (though by no means all) of my Spring Reading List. It's been very sad to not have the energy to write about it all, so I'm glad to have begun doing these wrap-up posts so I can squee a bit about everything I've missed writing longer posts about.
Best Fantasy Novel – The Refrigerator Monologues by Catherynne M. Valente
I have unequivocally loved everything I've ever read by Catherynne Valente, and The Refrigerator Monologues was always one of my most-anticipated releases of 2017, so it's no surprise that I adored it. Valente has always had a way with language, and like all of her other work, The Refrigerator Monologues deserves to be read aloud, even if just to yourself. It's smart and funny and furious and sad, and Valente has crafted a wonderfully original world of superheroes and a marvelous group of heroines with strong voices that are distinctive and familiar in turns.
Best Science Fiction Novel – Raven Stratagem by Yoon Ha Lee
I've been following Yoon Ha Lee's career with interest since picking up Conservation of Shadows a few years ago because I liked the cover and realizing that it was one of the finest SFF short fiction collections I'd ever read. Lee's first novel, last year's Ninefox Gambit, was among my favorite books of 2016, but he's really outdone himself with Raven Stratagem, which is one of those rare second books in trilogies that is better than the first. Even having read some of Lee's short fiction set in his Hexarchate universe, I sometimes struggled to follow parts of Ninefox Gambit, but that's not the case with Raven Stratagem, which is all around a stronger book, more character-focused, with a more easily comprehensible plot and a great cathartic payoff at the end that sets things up for a very exciting third installment in the series.
Best Magazine – Uncanny #16, May/June 2017
Uncanny's Year Three has been outstanding in general, but this was an especially excellent issue. Sarah Gailey's essay, "City of Villains: Why I Don't Trust Batman," went almost viral (and deservedly so) as soon as it was posted online, but it's only one great piece in an issue heavy on wonderful nonfiction. My personal favorite essays were "Missive from a Woman in a Room in a City in a Country in a World Not Her Own" by Mimi Mondal and "How I Learned to Stop Worrying and Eat the Eyeball" by Dongwon Song. This issue is no slouch in the fiction and poetry department, either, with new short stories by Ursula Vernon ("Sun, Moon, Dust") and Chinelo Onwualu ("Read Before Use"), among others, and a pair of lovely poems by Roshani Chokshi ("Dancing Princesses") and Theodora Goss ("Seven Shoes"). Honestly, just buy the whole thing, and then think about backing Year Four (which will include a People with Disabilities Destroy Sci-Fi special issue) when the Kickstarter goes live in July.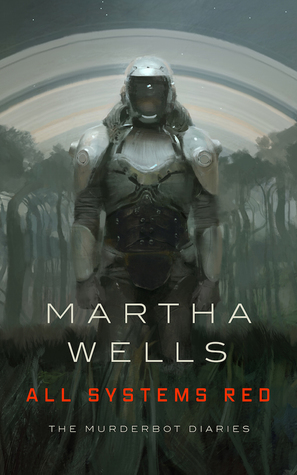 Best Novella – All Systems Red by Martha Wells
I read an above average number of very good novellas in the last three months, but All Systems Red is a true standout even with stiff competition. A sci-fi adventure written from the point of view of a sentient cyborg/robot who calls itself "Murderbot," All Systems Red has humor, excitement, a dash of horror, and criticism of capitalism–all things relevant to my interests–combined with a strong and unique narrative voice. The best part is that there are at least three more Murderbot stories forthcoming from Tor.com over the next year or so. I cannot wait.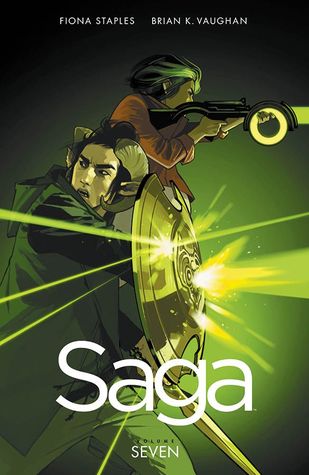 Best Comic Book – Saga, Volume 7 by Fiona Staples and Brian K. Vaughan
This seems an obvious choice, especially since I'm not a great reader of comics in general, but Saga is really, really good. This volume is full of all the weirdness one can always expect from this series, but it also comes with almost as much heartbreak (including at least one straight up gut punch) as the six previous volumes combined, so be sure to enjoy it with a box of tissues close at hand, possibly after several glasses of wine to preemptively dull the pain this book is pretty much guaranteed to make you feel.
Best Anthology – Cosmic Powers: The Saga Anthology of Far-Away Galaxies edited by John Joseph Adams
Listen. You're almost never going to find any collection of short fiction that you like every bit of, but this anthology comes close for me. From the very funny "A Temporary Embarassment in Spacetime" by Charlie Jane Anders to the sharp and wryly witty "Zen and the Art of Starship Maintenance" by Tobias Buckell to Linda Nagata's mother/daughter caper, "Diamond and the World Breaker, to a new Yoon Ha Lee Hexarchate story, "The Chameleon's Gloves," there's something here for almost everyone. It's an anthology with (cosmically) big ideas, a great deal of fun, and an entertainingly retro sensibility without sacrificing forward-thinking messages.
Best Collection – So You Want to Be a Robot and Other Stories by A. Merc Rustad
I only discovered A. Merc Rustad in January when I read their lovely story, "This is Not a Wardrobe Door," at Fireside, but I loved that story so much that this collection was at the top of my to-read list as soon as I found out about it. So You Want to be a Robot and Other Stories collects that story and twenty more in a showcase of Rustad's consistently good ideas and solid execution. Personal favorite stories in the collection include: "The Android's Prehistoric Menagerie," "Where Monsters Dance," "Finding Home," and "BATTERIES FOR YOUR DOOMBOT5000 ARE NOT INCLUDED."
Best Sin du Jour Novella – Greedy Pigs by Matt Wallace
We're up to book number five in this seven part series, and I am already getting sad about it ending. I've enjoyed this series since day one, and each installment continues to be better than the one before. In Greedy Pigs, the Sin du Jour team finds themselves accidentally catering an event for the President of the United States. Things get weird, obviously.
Best Non-SFF Thing – Natasha, Pierre & the Great Comet of 1812 Original Broadway Cast Recording
Not a book, I know, but I'm slightly obsessed with this musical right now. It's based on about seventy pages from War and Peace by Leo Tolstoy, and it scratches basically all my itches. It's ambitious. It's funny. It's literary. It's gorgeously written and produced. It's got accordions. It's got Helene Kuragina, who is played by Amber Gray, who is a treasure and gives us this earworm:
Honorable Mentions:
Reenu-You by Michele Tracy Berger – Not the best written novella I read this spring, and it could have used another pass with a copy editor, but it's a story that has stuck with me. Even weeks later, I still find myself thinking every couple of days about these characters and the way they bond through a shared trauma.
Victor LaValle's Destroyer #1 – A promising first issue with a fresh take on classic source material.
"Beauty, Glory, Thrift" by Alison Tam – A delightful sci-fi adventure novelette.
Down Among the Sticks and Bones by Seanan McGuire – I only liked Every Heart a Doorway, but I loved Down Among the Sticks and Bones. I think if I'd read this one first, I'd have liked the other better as well.
The Guns Above by Robyn Bennis – I didn't think I was in the mood for a book about a woman having to deal with sexist garbage, but this one is a good, fast read.
Biggest Disappointments: 
Ladycastle #4 – After this limited series started off strong, it ends with some baffling plot developments and a too-easy resolution.
River of Teeth by Sarah Gailey – This novella was fine. I like the hippos. But I think it's a case of it being extremely over-hyped. I'm not sure what I expected, but it doesn't seem near exciting enough on its own merits to earn all the superlative praise I've seen for it.
The Space Between the Stars by Anne Corlett – By about five chapters in, I'd predicted the book's big "twist" and couldn't even be bothered to finish it.