As has become something of a mantra around here, I didn't get nearly as much accomplished this week as I would have liked. However, the things I did accomplish are good things. I finally finished writing up my Winter Reading List, and I posted reviews of Beneath the Sugar Sky and Robots vs. Fairies. Sadly, I didn't get around to writing about Star Trek: Discovery like I'd intended, but I just didn't have much to say about it. I'm hoping tonight's episode will give me a little more to work with on that score.
The best news of the week, by far, of course, is that I'm starting a new job this coming week. Nothing very exciting, but it'll keep us afloat here until my partner finds something and will make it much easier for us to afford the professional certifications that will make it easier for him to find work. I'm very pleased and extremely relieved and feel very very lucky to have found work so quickly and easily at a time when I really need it. It's a huge weight off my mind to have this taken care of, and I can already tell that it's going to do wonders for my general mood, which will hopefully translate to higher levels of productivity here as well.
The other good thing that happened this week is that I realized that much of my ill feeling and exhaustion in the previous week or so was due largely to my quitting of caffeine and sugar. Well, I've quit drinking Red Bull, anyway, which was one of my New Year's resolutions and, perhaps, the only thing in my life that's gone as planned so far in 2018. And now that I'm past the headache-y, cranky, fatigued phase of quitting caffeine and sugar, my energy levels have been much higher, I've been sleeping better, and I've already noticed some clothes feeling slightly looser. Turns out that not consuming hundreds of calories per day of high fructose corn syrup and stimulants is a good thing, and now that I'm past the unpleasant part of the quitting process, I'm much more able to appreciate that.
TL,DR: After a decidedly rocky start to this year, things are already looking up. Yay!
If you're still looking to fill out your 2018 TBR, be sure to check out this list of 95 Books Sci-Fi and Fantasy Editors Can't Wait to Read in 2018.
Perhaps the book I'm most excited to read in 2018 is Rebecca Roanhorse's debut novel, Trail of Lightning, and it has a cover! Gorgeous art by the amazing Tommy Arnold. The author answers several questions about the book over at the Barnes & Noble Sci-Fi and Fantasy Blog.
Fonda Lee's Jade City was my favorite book of 2017, and I am still eagerly consuming every scrap of media–blog posts, interviews, podcasts, reviews, etc.–that I come across related to it. This week, Fonda Lee was on Books & Boba to talk about her novel.
Navah Wolfe and Dominik Parisien did a Reddit AMA to promote their new anthology, Fairies vs. Robots.
Seanan McGuire was over at the Powell's Books blog to talk about portal fantasy and her Wayward Children series.
The other exciting cover reveal of the week is for R.F. Kuang's The Poppy War. I'm really digging the striking simplicity of this cover, and I'm excited to read the book, which is the first in a trilogy that the author says "grapples with drugs, shamanism, and China's bloody twentieth century."
At Tor.com, Stubby the Rocket offered up a short history of the evolution of fantasy candy kingdoms.
The nominees for this year's Philip K. Dick Award were announced.
For their 5th anniversary, Rosarium Publishing will be releasing a fantastic-sounding two-volume anthology, Sunspot Jungle. They'll be running a Kickstarter for a special hardcover edition in February.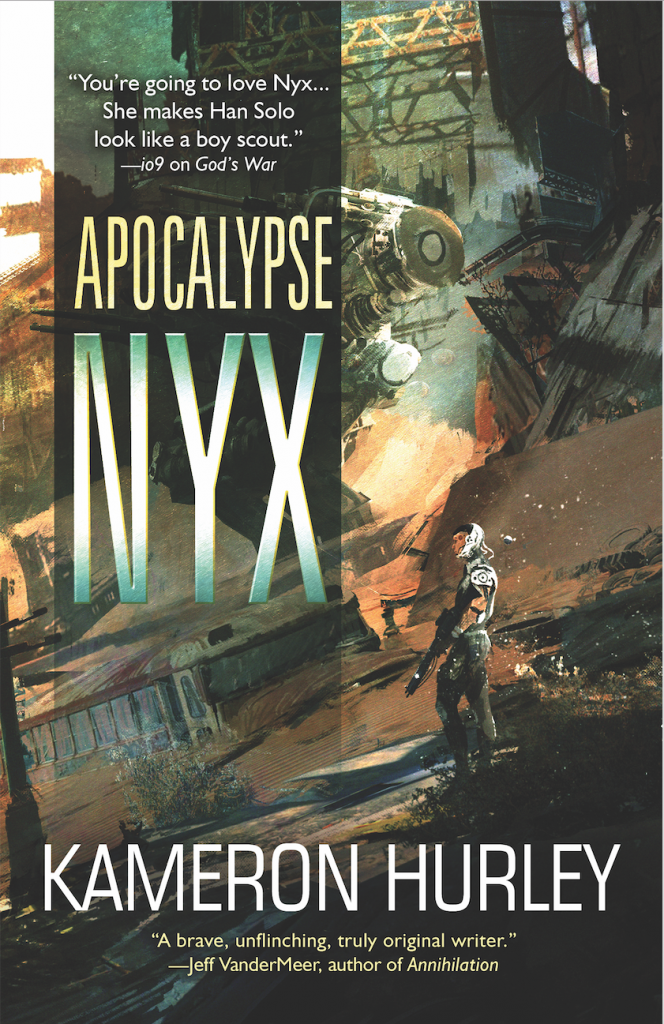 Anyone who has been following me for very long might know that I love love love mass market paperbacks and that I bemoan the ascendancy of trade paper about once a month or so. I am beyond thrilled to have learned that Kameron Hurley's Beldame Apocrypha are getting re-released this spring/summer as mass markets to go along with her collection of Nyx stories, Apocalypse Nyx (which will probably be a trade paperback, but I guess I can't have everything).
The Cosmos revival is finally getting a second season.
Jim C. Hines has an awful lot of receipts on Jon Del Arroz's bad behavior. Honestly, it's moderately surprising that this dude wasn't banned from more parts of polite society sooner.
'Tis the season for blog makeovers, with two of my favorites getting new looks for the new year:
And I'll leave you with the "mad hatterpillar." It's a caterpillar that wears pieces of its own shed exoskeletons as a fabulous hat, and it's surprisingly adorable: