I'm very close to changing the title of these posts to "Depression Blogging and Things I've Read On the Internet Lately," since that's what they mostly consist of, week after week. Mental health-wise, things always feel like they're getting better, which beats the alternative, I suppose, but at this point there's no telling when that feeling of better is going to manifest as actually being better, in terms of productivity. This time of year, it's not helped much by the fact that I have actual things to do. This week was a bit of the calm before the storm, and I still felt busy. The week to come is going to be filled with holiday baking and candy-making and the last of my Christmas shopping and planning Christmas dinner and seeing the new Star Wars movie and crying about Carrie Fisher.
I'd like to say I'm still hopeful that I'll be able to get some writing work during the next couple of weeks, but at this point, I think I'll mostly be wrapping up some end-of-the-year last-minute reading before I move along to reading 2018 work. I will have some end of the year "Best of" lists, and I'd like to publish some book reviews, but I'm trying to end 2017 by being kind to myself. It's been a rough year, and I've been beating myself up for months over falling so far behind on so many things I wanted to accomplish. I think I'm ready to quit that now and start making plans for how to do better and be happier about it next year, so that's what I'll be doing. Also, waiting for Black Mirror Season 4 to show up on Netflix (December 29!):
This week, I took a break from longer books to read a pair of novellas. Silvia Moreno-Garcia's crowdfunded Prime Meridian was not at all what I expected at first, but it's a story that grows in the telling and I was well and truly in love with it by the end. It's only available to Indiegogo backers so far, but it will be getting a broader release on July 10, 2018, and it's not too early to pre-order it. I also read Winterglass by Benjanun Sriduangkaew, a dark fairy tale that borrows some motifs from Hans Christian Andersen's The Snow Queen to tell a story of three women engaged in a war with each other. It's utterly gorgeous and full of Sriduangkaew's characteristically lovely prose and sharp wit. There's also a great interview with Sriduangkaew over at The Future Fire this week.
There's a new collection of essays out from Ursula K. Le Guin, No Time to Spare: Thinking About What Matters. You can read excerpts from it in several places:
Today, I cracked open the next book in Ada Palmer's Terra Ignota series, The Will to Battle, which hits shelves December 19. This week, at the Tor/Forge blog, Palmer wrote about "Other Story Ingredients Beyond World, Characters and Plot."
Fonda Lee's Jade City is (still) one of my favorite books of 2017, and it's ALSO still on sale for $2.99. This week, Lee talked about 6 Books at Nerds of a Feather.
There's an interview with The Odyssey translater Emily Wilson over at Book Riot.
Literary Hub has a two-part interview with Samuel R. Delany:
Part One | Part Two
Prism Stalker is officially the first new comic of 2018 that I'm super excited for.
Marvel's Jessica Jones has a Season Two release date (March 8, 2018) and a trailer:
This year's Bad Sex in Fiction Award was announced, but it's sadly ho-hum compared to some previous years.
The Fandomentals' Carol Awards for Game of Thrones Season 7, however, is a wild ride.
Tor.com has you covered for this month's new releases:
I keep thinking of checking out The Orville, but every time I start getting close, I see something like this list of 6 Misogynist Messages From The Orville, and it reminds me of why I don't like much of anything that Seth McFarlane does.
This list of 50 Free Printable Bookmarks makes me wish I used bookmarks more often instead of index cards and receipts.
Pantone's 2018 Color of the Year is Ultra Violet: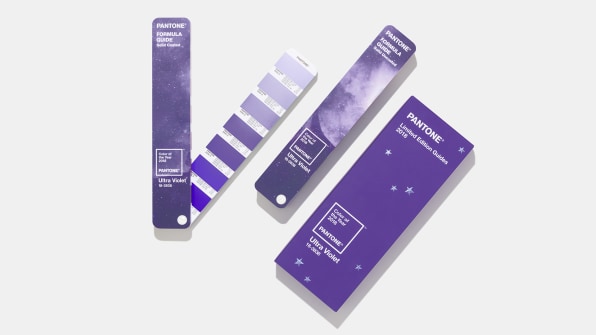 This was the first full week of Smugglivus, and it was full of great guest posts over at the Book Smugglers:
I loved this piece at Tor.com about The Witches of Winter.
Apex Magazine is now available in print!
The second half of Uncanny Magazine #19 is available online. My favorites from this issue:
I've been wild about Vina Jie-Min Prasad since I read "Fandom for Robots," but this week I learned about a couple more stories she's published in 2017:
Rachael K. Jones' "The Greatest One-Star Restaurant in the Whole Quadrant" is my favorite short read of the week. As the author says, "we don't have enough deranged cannibal she-cyborgs running the food trucks in our fiction."