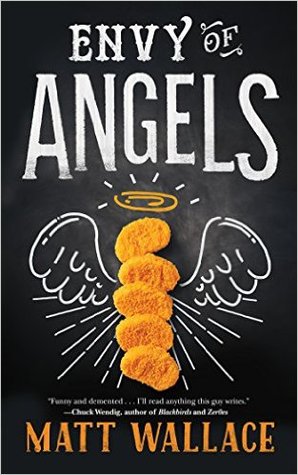 Probably my favorite thing about this first round of Tor.com novellas has been the wide variety of different stories they have included, and this one is definitely the one that is most different from all the rest. I didn't have any particular expectations for Envy of Angels, not having read anything else by Matt Wallace, and I increasingly find that I rather enjoy reading like this. It turns out that Envy of Angels is a smart and very funny urban fantasy.
I love any book that makes me laugh out loud, and Envy of Angels did so more than once. It is a seriously hilarious story involving a couple of down-on-their-luck chefs, a catering company whose only clients are demons, and an angel that tastes just like chicken nuggets. Basically, Darren and Lena are looking for work, they get hired on at Sin du Jour, and this story deals with basically their first day of work.
It's been a good while since I've used the phrase "hijinks ensue" unironically, but it's definitely appropriate here.
I can't write too much about the plot without spoiling half the jokes, so I will just say that this is an excellent little story to read if you need a break from reading all of this year's fantastic more-serious novels. I finished Envy of Angels in a single afternoon because I didn't want to put it down, so I'd also suggest being sure to just go ahead and make sure you've got a couple of hours free when you sit down to it.
I won't say that Envy of Angels is a masterpiece, because it's not. Some of the characters are a little too one-dimensional, the tone of the story can be uneven at times, the prose is workmanlike at best, and I occasionally felt as if the author wasn't quite as clever as he thinks he is. Still, this is a super fun read, and sometimes that's enough.
I don't see myself searching out Matt Wallace's other work anytime soon, but I'm definitely looking forward to the next Sin du Jour novella. Goodness knows, by the end of January I'm sure I'll be ready for another light, fast, humorous read to chase away the winter doldrums.