So, 2017 is a year that just keeps happening, whether we want it to or not, and it's now the end of summer. I didn't read nearly as much as I'd have liked, and I certainly fell very short of all my writing goals, but it hasn't been a total disaster, either. The things I did manage to read were mostly good, and there were some real standouts in basically every category. Here are my favorites.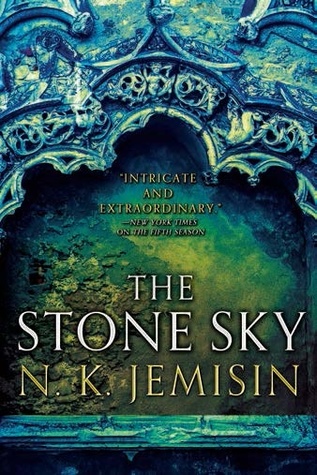 Best Fantasy Novel – The Stone Sky by N.K. Jemisin
To say N.K. Jemisin stuck the landing on this series is really an understatement; though, like the previous book, it doesn't quite match the sheer sublime brilliance of The Fifth Season, this novel is nonetheless stratospherically fantastic, and if the Broken Earth trilogy doesn't become a bonafide classic the genre, there really is no justice in the world. It's a thoughtful, inventive and compulsively readable story, with strong world-building, a powerful message (or, rather, several) and a pair of iconic lead characters in Essun and her daughter Nassun.
Best Science Fiction Novel – Null States by Malka Older
I'm torn between being sad that I waited so long to read Infomocracy and its sequel and being happy that I was able to read them one right after the other (though that brings me back round to sad again that I've now got another full year before the next book comes out). As good as Infomocracy was, I think Null States is definitely the stronger book of the pair, and a lot of that is because of its main heroine, Roz, who was a minor character in the first book but moves to the forefront in this one, where she proves herself to be smart, tough, resourceful and empathetic. While these books have been described by some as "dystopian," I disagree that the word applies to them at all. Personally, I found the series compelling, insightful and, above all, optimistic about the future.
Best Novella – The Black Tides of Heaven by JY Yang
Both installments of JY Yang's new novella duology from Tor.com are well worth reading, and I can't wait to read more books set in the Tensorate universe, but The Black Tides of Heaven is a perfectly conceived and executed introduction to an intricately lovely and highly entertaining new fantasy setting. The twins Mokoya and Akeha are well drawn and fully realized characters, the world in which they exist feels real and lived-in, and the conflict between magic and technology is both epic in scale and deeply personal to the characters. Also, just look at that gorgeous book cover. One of the best of the year, full stop.
Best Novelette – "Avi Cantor Has Six Months to Live" by Sacha Lamb
This sweet and tenderly charming novelette features a pair of trans boys, their loving families and a just enough magic to scootch the story into the category of fantasy, though one could make the argument that it's more in magical realism territory. What I loved about i, though, is that it's a story that is kind to its characters. Avi has troubles, but he's also surrounded by people who care about him and wish him well. He's going to be okay, and that's nice.
Best Magazine – FIYAH Literary Magazine, Issue 3, "Sundown Towns"
I am still slightly bummed that this issue didn't have a vampire story in it, but it does have "The Last Exorcist" by Danny Lore, which is one of my favorite stories of 2017 so far. "Cracks" by Xen is another stand-out tale. It's also got another incredible cover by Geneva Benton, whose vision for the magazine's first year has gone a long way towards helping to establish the publication's unique and distinctive identity. FIYAH just keeps getting better and better.
Best Comic – Monstress, Volume 2: The Blood
Marjorie Liu and Sana Takeda continue to make magic together in this second collection, which includes issues seven through twelve. After the somewhat unrelenting darkness of Volume One, I was pleased that this one at least slightly less brutal. Volume 2 brings us a bunch of new characters and greatly expands upon the world introduced in the first volume over the course of a quest story line that enhances the overall epic feel of the series. Plus, the book itself is a thing of pure beauty; Sana Takeda's sumptuous artwork for the series is as marvelously detailed and layered as its ever been, and every page is a joy to look at.
Best Non-SFF Read – What Happened by Hillary Clinton
Listen, I love and admire Hillary Clinton so much, and I don't think I'll ever not be incandescently furious that this woman isn't our President. Her campaign memoir is every bit as erudite, well-researched, and thoughtfully put together as you would expect from Clinton's public persona, and it's also wryly funny and full of personal quirks and tics that provide a fuller picture than perhaps ever before of the real woman behind that public persona. I know I'm going to still be angry about the Trump administration and worried for the future of this country and the whole world for a long time, but reading this book is something of a healing experience, if only because it's reassuring to know, well, what happened.
Best Awesome Super Hero Romance Novel – Heroine Worship by Sarah Kuhn
I binged this title and its predecessor, Heroine Complex, back to back over like a day and a half, and I loved every single minute of them. They're whip-smart, funny, fast-paced and slightly sexy, but the real draw, for me, was the strong focus on the friendship relationship between Annie and Aveda. Each of the books is as much coming-of-age story as it is romance, and I loved reading about how these women level up together and learn to have a healthy adult friendship with each other.
Honorable Mentions:
The Red Threads of Fortune by JY Yang
It's got a lot of the same great stuff that its partner book has, but also dinosaurs.
Uncanny Magazine #18, Sept/Oct 2017
This issue has a Catherynne M. Valente-penned Clockwork Orange and Cthulhu Mythos mashup.
A Taste of Marrow by Sarah Gailey
More hippos, but also better character arcs and a more satisfying ending than River of Teeth.
An Oath of Dogs by Wendy N. Wagner
Great worldbuilding and an interesting main idea.
The Strange Case of the Alchemist's Daughter by Theodora Goss
I love monstrous women. This one fooled me a little with its cover, which looked a bit more literary than its contents turned out to be, but it's a great read.
Provenance by Ann Leckie
Ann Leckie is one of my favorite authors of space opera right now.
Jane, Unlimited by Kristin Cashore
This is a very weird book, and I don't think it was entirely successful, but I still kind of loved it.