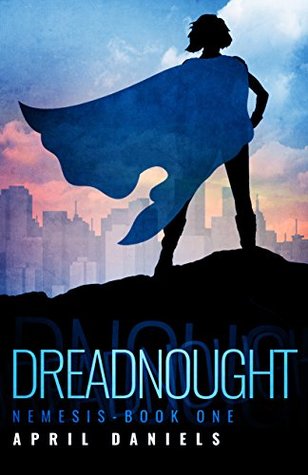 I love that Dreadnought is a thing that exists in the world more than I actually enjoyed reading the book, though I did rather like it. It's being marketed as great for fans of last year's The Heroine  Complex and Not Your Sidekick, and both of those were titles that I just never did quite manage to get around to reading, mostly because I'm not super into super hero stories. Like these other books, Dreadnought centers around an unconventional protagonist, in this case a fifteen-year-old closeted trans girl named Danny who has to quickly come to terms with her identity when she is unexpectedly gifted with both superpowers and the body she's always known she should have. Danny is a smart, plucky, relatable heroine who I expect will be an education for some readers and a much-needed bit of representation for others. Nonetheless, Dreadnought is a book that I read with the constant awareness that it wasn't for me. Danny's story of self-discovery and actualization is one that will be compelling for any reader, but I imagine it will resonate most deeply with readers who share more of Danny's experiences as a trans girl.
Superhero narratives have long dealt with issues surrounding identity and marginalization, and author April Daniels has written a novel firmly in that tradition. Daniels' geek credentials are on full display here, and it's obvious that she has a thorough knowledge of genre conventions, which she deploys in a perfectly pitched tale that is both a top notch example of its type and a wholly fresh take on a set of familiar tropes. Dreadnought's fairly straightforward hero's journey structure is a tried and true framework that works well here to provide a foundation upon which Daniels can build a strong, clearly messaged modern superhero story. It's an excellent example of the value of not reinventing the wheel, and Daniels shows a good instinct for when to utilize common tropes and when to subvert or interrogate them for maximum effect.
I love that there's no real preamble to Danny's story. Daniels digs right into things from the first page, with Danny undergoing her transformation almost immediately and being thrust into a vastly changed life by chapter two. The pace of events never does let up, which makes for fast reading. I didn't make it through Dreadnought in a single reading session, but only because I had other obligations that kept me from it. Each scene in the novel feels necessary and has an easily identifiable purpose, moving along the plot, fleshing out characters, or communicating part of the book's message. This trimness is a great asset, especially in the YA market where the fashion for some years now has been great sprawling, meandering fantasy stories with indistinct characters and bland ideas. At an economical 276 pages, Dreadnought is a refreshing departure from that trend.
Trans issues take up a lot of page space in Dreadnought, but I still wouldn't say its a particularly message-heavy title. Danny is a transgender teen, so she's got a lot of stuff to deal with, but Daniels presents it all matter-of-factly and in a naturalistic enough fashion that most of it feels about the same as reading about any other teen drama. It's not that Danny's struggles with parents, friends, doctors, and various associates aren't specific to her trans-ness; it's just that these things seldom feel like the point of the book. While Danny's trans-ness figures largely in the novel and is inextricably bound up with her superhero abilities, being trans is only one part of Danny's character, and many of the scenarios Danny must deal with as a teen with sudden superpowers are pretty standard stuff for the genre. Sure, she has to deal with some blatant transphobia from her parents and others, and that will no doubt be new to many readers, but a lot of her problems are still just versions of the same banal coming of age crap everyone has to deal with as a teenager trying to figure out their place in the world.
In most ways, Dreadnought is a run of the mill teen power fantasy. It's always obvious who the villains are in this book, and while it doesn't flinch away from depicting some darkness, I never felt any real fear that the bad guys were going to win. Even the authorial choice to complicate things by exploring the double-edged nature of super powers as both blessing and curse and the decision to interrogate the whole "with great power comes great responsibility" thing isn't altogether new or particularly noteworthy. It's well done, though, and it's still sadly rare for there to be a book like this written by a trans woman about a trans girl. April Daniels offers a fresh perspective on her topics of choice and has created a great character with whom a disgracefully under-served population will be able to identify. Dreadnought isn't an exceedingly ambitious novel, but it is a well-written, highly entertaining, and ultimately optimistic origin story of a heroine I look forward to reading more about.
This review is based on a copy of the title received from the publisher via NetGalley.