Once again, I've overestimated the amount of time and energy I would have for blogging. However, this time it's not a matter of being exhausted from the day job; I've actually started getting used to the schedule and the early mornings, and my energy level has been pretty high. Instead, I just had a plain busy week, much of it taken up with getting my kid to and from final rehearsals for her first ever high school musical (which was Curtains, and it was very good). It's been a lot, but now it's over, which is a relief.
I'm happy to be feeling more energetic–I've even been cooking more again, which is excellent, as I've been thoroughly tired of frozen pizzas and things I can microwave for dinner–but I still feel like I'm struggling a little with adjusting to this new normal. I'm often at my most productive in mid-to-late evenings (think around 9:00 pm til midnight or so), so I'm losing a lot of ordinarily fruitful writing time any day that I have to go to bed early in order to be up at 4:30-5:00 am. I'm certain that things will get sorted, but in the meantime I'm just feeling a bit off, in addition to just being very frustrated at what still feels like a major disruption to my regular schedule and working process. It's gonna happen, though. Hopefully sooner rather than later.
Tor.com has all the new releases you should be looking forward to in February:
Asimov's has made several Locus Award-nominated stories free-to-read online.
It's time to vote in Clarkesworld's Readers' Poll (or just read the stories that have made the finalist list).
Lady Business has some great recs if you are nominating and voting for the Hugo Awards this year. (Full disclosure: Includes me, which is still never not a surreal thing to see.)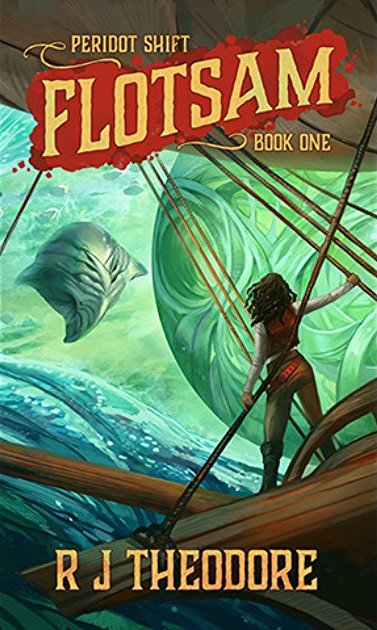 I just got my ARC of Flotsam by R.J. Theodore the other day and haven't dug into it just yet, but I am pretty hyped for it. It had me at "steampunk first contact" and I am wild about that fabulous Julie Dillon cover art.
The Illustrated Page has an interview with Alex Wells.
At Minor Literatures, J. Moufawad-Paul writes about Benjanun Sriduangkaew's Winterglass and Necropolitics.
Sue Burke wrote about the Big Idea in her debut novel, Semiosis.
Burke also shared her Favorite Bit of Semiosis. And popped over to the Tor/Forge blog to share some more thoughts on plants, sentient and otherwise.
Brooke Bolander shared five things she learned while writing The Only Harmless Great Thing.
Jasmine Gower's Moonshine came out this week, and she wrote about her Big Idea over at Whatever.
Myke Cole was on Skiffy and Fanty to talk about his upcoming book from Tor.com, The Armored Saint.
S.L. Huang's Zero Sum Game has a cover!
The Kickstarter is live for the hardcover edition of Sunspot Jungle, a two-volume anthology featuring over 100 speculative fiction writers from around the world.
At The Millions, a look at Carrie Fisher's The Princess Diarist one year later.
At LitHub, some thoughts on the commercialization of dystopian fiction. I'm not sure I agree, but it's something to think about.
Speculative Chic has a roundtable tribute to Ursula K. LeGuin, while four writers remember LeGuin and talk about what LeGuin meant to them over at LitHub.
io9 covered the history of supernatural pregnancies.
There's finally a proper trailer for season two of Jessica Jones:
There's also a trailer for Solo: A Star Wars Story, which I'm not sure I care about at all. It's fine, I guess, though I'm very confused by those wine glasses with the huge silver things around the stems. Whose awful idea was that?
I am interested, however, in 365 Days of Star Wars Women.
Because we are living in the worst possible timeline, David Benioff and D.B. Weiss are going to write and produce some Star Wars movies.
The second half of Uncanny Magazine #20 is available online now. Must-read pieces include:
There's a new issue of Apex Magazine out as well, #105. I'm currently digging "A Witch's Guide to Escape: A Practical Compendium of Portal Fantasies" by Alix E. Harrow. There's also an interview with the author.
New at Lightspeed this week: "Four Point Affective Calibration" by Bogi Takács (plus author spotlight).
Finally, I am in love with this "Judith and Holofernes" by Giorgio Vasari, which I've somehow managed to never see before. Those back muscles are gorgeous, and I adore the way Judith fills the whole frame. Amazing.