It's been a decent week here at SF Bluestocking, though I'm still not quite where I'd like to be, productivity-wise. This coming week will be much better, however. Today was Star Trek: Discovery Day, so I'll have the first couple episodes of that to write about tomorrow (I have a lot of feels about Star Trek), and I've got reviews in the works for a couple of this week's new releases (Provenance and An Unkindness of Magicians–both excellent). I'm also putting the finishing touches on my Summer Reading Wrap-Up and getting ready to publish my Fall Reading List, so watch for both of those posts this week.
It's been a tough week still for some storm-wracked parts of the world, and Fireside Fiction has a store set up where all profits are going to hurricane relief and recovery if you'd like to help out and get some new reading material.
There's still a bit over a day left on this year's Strange Horizons Fund Drive, and they're still short of their goal. $25 gets you a year of ebooks of Strange Horizons content, however, and it is top notch stuff.
There's 11 days left on the Kickstarter for Volume 3 of the Long List Anthology that collects short fiction from the long list of nominations from this year's Hugo Awards. They're currently less than $70 away from a stretch goal that will add four novellas to the book, and just $10 gets you the ebook of the collection.
The Book Smugglers Level Up Kickstarter has 10 days left, and there are still tons of great rewards up for grabs, including signed or personalized books, chats with the editors, short story or novel critiques and more.
Jessica Williams is set to write and star in a Showtime comedy series about a science fiction writer living in Brooklyn.
Sarah Gailey's serialized story, The Fisher of Bones, is available for preorder already.
This is the best xkcd comic in history: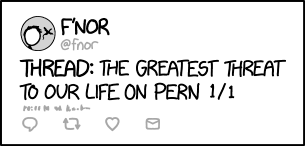 It's never a bad time to listen to a conversation with Margaret Atwood, and there's a new one this week at LitHub.
Despite the protests of probably millions of miserable man-children, Hillary Clinton insisted on publishing her book anyway, and now What Happened is the best-selling non-fiction title in the last five years.
Marjorie Liu and Sana Takeda talked about their collaboration on Monstress at the Barnes & Noble Sci-Fi and Fantasy Blog.
At Tor.com, Malka Older shared a helpful guide to some of the major micro-democratic governments you can find in Infomocracy and Null States.
The Black Mirror episode "San Junipero" won an Emmy for Best Writing, and the Fandomentals have a good take on why that episode was so powerful and why this win was important.
Annalee Newitz wrote about the Big Idea in her debut novel Autonomous.
Fran Wilde talked about the Big Idea in the final volume of her Bone Universe series, Horizon.
Wilde was also interviewed about Horizon over at Shimmer.