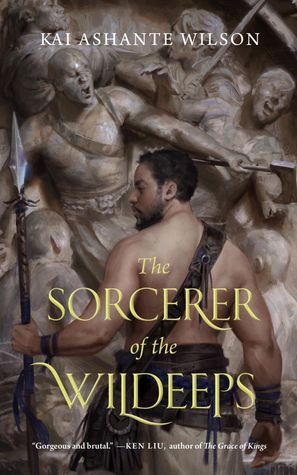 The Sorcerer of the Wildeeps is the first thing I've ever read by Kai Ashante Wilson, and I'm so glad I did, if for no other reason than that I went out right afterwards and also read his short stories, "The Devil in America" and "Super Bass," which are similarly excellent. As the first of Tor.com's new line of novellas, which have all been heavily promoted, I had high hopes for this book. I wasn't disappointed.
This is a book that is deeply concerned with language, and this is apparent in every intricate detail of Wilson's superbly crafted prose. The plot is thin and linear, with most of the "story" functioning as character portrait and world building. I could see this being a problem for readers who are looking for something more exciting, but the adventure here is less the physical journey of the caravan and more the emotional and spiritual journey of the titular character.
Demane is a character who has come a long way already by the time we meet him at the beginning of Sorcerer. He's very much an outsider in the group of caravan guards that he's currently traveling with as well as their more well-to-do employers. As the caravan travels into a large and untamed jungle, amidst rumors of a beast that is marauding along the road, we're treated to a thorough exploration of Demane's outsider status, largely through his interactions with other characters.
The worldbuilding is where The Sorcerer of the Wildeeps really stands out, though. It reminds me a little bit of Nnedi Okorafor's Zahrah the Windseeker, which also contained a large and mysterious jungle and a city on the edge of it, but Sorcerer is much broader in its scope and is focused less on the exploration of the forest and more on an exploration of Demane's interactions with the people he meets on his journey. Even the monster Demane must defeat at the end is never concretely described.
I would have liked to see more actual adventure and less standing around in a town talking about stuff. Because so much time was spent on what mostly amounted to a whole lot of incredible worldbuilding mixed with some incisive social commentary, the action at the end of the book felt rushed and the ending felt a little tacked on. While this was somewhat frustrating, it did whet my appetite for the setting, and I really, really hope that Wilson revisits this world in some longer fiction.
A final note: I bought an .epub version of the book, and I found the formatting to be a little bad. It wasn't always clear when the story shifted between the present and flashbacks, and I don't know if this was intentional or not. Either way, it was sometimes confusing and took me out of an otherwise immersive story.