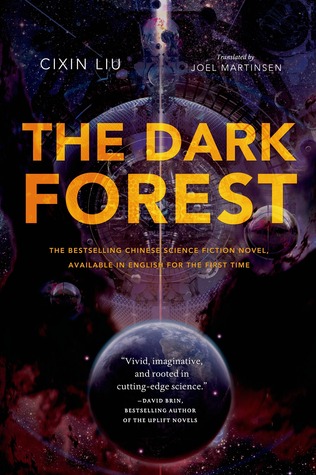 I loved The Three-Body Problem when I read it earlier this year, but I wasn't really certain what to expect from The Dark Forest, especially with a different translator from the first book. While I didn't find it to be–overall–as compelling as I found its predecessor, I think The Dark Forest might be the better of the two books if it wasn't for a sometimes clunky translation.
The difference in translation is subtle but apparent from the beginning, and this is exacerbated by a shift in style from the first book. The Dark Forest is largely an exploration of a couple of interlocking metaphors, relying largely on poetic language and imagery to discuss some heavy ideas. There's not a ton of plot going on–basically, people are scrambling to figure out what to do about the impending alien apocalypse–and its story unfolds far more slowly than so few events seem to warrant.
It turns out that a four hundred year wait for aliens to arrive for an epic showdown isn't all the exciting when the aliens have destroyed your ability to make scientific and technological advancements that might allow you to win. It's mostly just one long, soul-crushing existential crisis punctuated by various smaller actual crises.
The book opens with a lovely metaphorical prologue, which is immediately engaging, although I felt as if some of the poetry of the language must be lost in translation, but then it's a slog for the first three quarters before transforming into a riveting page turner in the last act. For most of the book, I just felt a little confused and frustrated because so little actually happens–and much of what does happen doesn't really matter–but in the last hundred and fifty or so pages, it all comes together and makes sense. The translation is still sometimes awkward, but the extended metaphors that Liu has been weaving finally cohere in a climax that is smart and well worth the struggle to get to.
The Dark Forest's translation may not be up to the same standard as The Three-Body Problem's, but it's still well-worth reading. It's a clever, beautiful, and at times darkly hilarious book that both neatly fits into sci-fi traditions and continues to broaden the horizons of the genre with a refreshingly different perspective on perennial science fiction questions.