I feel like breaking my foot in May derailed everything I'd planned for the summer, and I've been in a bit of a reading slump ever since that wasn't helped by dealing with Game of Thrones and a nice bout of straight up depression that has left me just constantly exhausted. However, I think that's mostly over now. The cast should be coming off my foot soon, I'm mostly recovered from Game of Thrones, and I'm ready to get back to some of what I had planned to accomplish.
This is still a slightly tentative list that might change order or expand if I get through things faster than expected, but here's what I've got in my queue right now.
Annihilation by Jeff VanderMeer
I finished this one today, so it's not technically "in the queue" I suppose. A proper review will be incoming in the next day or two. Annihilation won the Nebula for Best Novel a few weeks ago, so it's definitely worth checking out if you follow awards. I'm not sure exactly what I expected when I sat down to read it, but it's definitely something special.
The Heart Goes Last by Margaret Atwood
I just got approved for an ARC of The Heart Goes Last from NetGalley, and I'm super stoked about it. I love Margaret Atwood with a deep and abiding passion, but I never did get around to reading her Positron shorts on Byliner before it went bust. This is apparently those, but rewritten and with more. However, I've got til its release date (Sept 29) to read and review it, so I'm not in a huge rush. I figure it will end up filling in sometime this summer when I'm in between other things.
An Ember in the Ashes by Sabaa Tabir
I've mostly gotten away from reading much YA stuff, but this book has gotten a good deal of positive buzz. It's apparently a standalone novel, although I see that there is a sequel in the works. I'm hoping to burn through it in a day or two so I can move along to some of the more exciting new releases that are coming up.
The Philosopher Kings by Jo Walton
Jo Walton's The Just City was one of the first books I read this year, so I've been eagerly anticipating its sequel since January. It comes out tomorrow, but I probably won't reasonably get started on it until the weekend. Apparently there is also a third book planned in this series, which has me all aflutter, even though there's no cover or release date for it yet.
Shadowshaper by Daniel José Older
This is the second of the very few YA works I intend to read this year, and it's another book that has been getting a ton of advance praise. Urban fantasy isn't my usual thing, and I'm a little skeptical of anything that is being so heavily compared to Cassandra Clare's Mortal Instruments, but I try not to put too much stock in that sort of thing. Promising Caribbean magic in Brooklyn and with an absolutely gorgeous cover, there's basically no way that I ever wasn't going to read this book. It comes out tomorrow along with The Philosopher Kings, which means I have a tough decision to make about which to read first.
The Invasion of the Tearling by Erika Johansen
I had a hell of a time dealing with the ridiculous name of the heroine ("Kelsea") in The Queen of the Tearling, but I ended up rather liking the book in the end. I won't say I'm particularly excited to dive back into this series, but I have a hard time leaving any series unfinished. I figure this will also be a nice, easy read in between some of the more difficult stuff on this list.
Station Eleven by Emily St. John Mandel
Station Eleven won the Arthur C. Clarke and was a 2014 National Book Award finalist. It also comes highly recommended by George R.R. Martin. It's got a ridiculously long description on Goodreads, which would normally make me think that it's either going to be big and beautiful and complex or an overambitious mess. With its awards nominations and general critical success, though, my expectation is very much that it will be the former.
Childhood's End by Arthur C. Clarke
Speaking of Arthur C. Clarke, I've been wanting to read this book for a while. As part of my general wanting to become more well read in the genre, I've begun sort of slowly working through the SF and Fantasy Masterworks collections. While my progress in this has really been very slow, Childhood's End became a priority when SyFy announced their miniseries adaptation of it. While there's no air date yet for the show, I want to be sure to finish the book before then, so I can't put it off too much longer.
The Magicians by Lev Grossman
I've been putting off reading this series for years, mostly because I, frankly, haven't been that excited about it in spite of all the attention it's gotten. It just sounds like a hipper, edgier Harry Potter for adults. I'm a little old to have ever really gotten into the Harry Potter phenomenon, so that's always been more unappealing than otherwise to me. However, this is another book that's being adapted for television (SyFy again!), and the first trailer looks pretty good.
The Buried Giant by Kazuo Ishiguro
I liked Never Let Me Go quite a bit, and I find it fascinating when more mainstream literary authors dabble in genre fiction. As a longtime fan of Arthuriana, I'm also very interested in the post-Arthurian premise for the story.
The Long Way to a Small, Angry Planet by Becky Chambers
I read this self-published gem earlier this year already, but I loved it so much that I'd like to reread it and give it a proper review in time for the hardcover release of it on August 13. I still can't decide if I love or hate the new cover, though. It's very pretty, but it looks so serious for a book that is actually quite funny. I really think I prefer the sort of pulpy charm of the original's spaceship illustration, but the book is so great that I'm mostly just happy to see it getting a bigger release.
The Dinosaur Lords by Victor Milán
This book has a knight riding a dinosaur on the cover, and it's a medieval fantasy based on 14th century Europe. It's a book by a man who is known for writing libertarian science fiction, which would normally be a huge turn off for me. However, there is no universe in which I'm not going to always read a medieval fantasy called The Dinosaur Lords with a dinosaur-riding knight on the cover, because that is rad as hell. If you agree about the total radness of this cover and the book's premise, it comes out on July 28.
The Fifth Season by N.K. Jemisin
I feel like I've been waiting for this book forever, even though it's probably only been a year. N.K. Jemisin has been one of my favorite authors since I first read The Hundred Thousand Kingdoms, and I can't wait to see what she's got for us this time around. Just judging from the book description, it sounds pretty epic. The Fifth Season hits shelves on August 4.
The Dark Forest by Cixin Liu
I really liked The Three-Body Problem, so of course I will be reading the second book in the trilogy. I don't read much translated fiction, and The Dark Forest has a different translator than the first book did so I'm curious to see how much difference that makes. I'm also looking forward to the promise of more action in The Dark Forest as that's basically the one thing The Three-Body Problem could be said to lack. The Dark Forest will be available on August 11.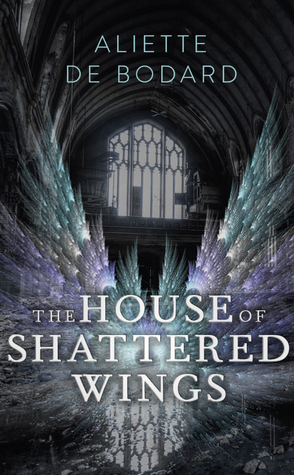 The House of Shattered Wings by Aliette de Bodard
I think I read something that Aliette de Bodard wrote a couple of years ago, but I can't for the life of me remember what it was. So I was thrilled to rediscover her this year when I read her fantastic On a Red Station Drifting. I followed that up with her Obsidian and Blood trilogy, a sort of noir detective story in 16th century Mexica, which was a ton of fun and a really refreshingly original setting. I'm very excited about The House of Shattered Wings, which will  be released on August 20.